Clever Camping Recipes for Dinner at the Campsite
When on a camping trip dinners should not be limited to just hot dogs and hamburgers and we all know food tastes better while sitting under the stars and watching the glow of the campfire. Check out these unique recipes which are perfect to try when camping, they are cheap and easy, make great camp food for kids and well, these recipes make the perfect food to eat when camping.
Breakfast Biscuits
These yummy breakfast treats can be cooked up at the campsite with just heat and water because all you need to do is prepare the mix at home and then cook at the campsite. These make for quick hot breakfasts which will give you an energy boost to face the day ahead.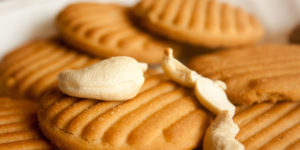 Ingredients:
2 cups flour

3 teaspoons baking powder

1 Tablespoon sugar

1 teaspoon salt

6 Tablespoons dry milk powder

2 teaspoons black pepper

1/2 cup shredded cheddar cheese

1 cup water

12 sausage patties

12 eggs
Directions:
In a medium bowl, whisk together flour, baking powder, sugar, salt, dry milk powder, black pepper and canola oil until well incorporated. (See note for storage information). To mix the biscuits, pour dry mix into medium sized bowl and add 1/2 cup of water. Slowly add the remaining 1/2 cup of water 1 Tablespoon at a time until the biscuit mix is thick batter. Stir in cheddar cheese. Set cast iron pan over medium heat and add oil to coat. Scoop biscuit mix by the scant 1/4 cup onto pan (you will need to work in small batches). Allow to cook until first side is golden brown and flip once. Cook until biscuits are fluffy and cooked through.
Add sausage to a cold cast iron skillet and then set it over medium high heat. Cook until sausages are golden brown and cooked through, flipping once. Remove and set aside.
Cook eggs in cast iron skillet until desired texture is achieved. Split biscuits in half and top with sausage and egg. Add ketchup or hot sauce if desired and place other half of biscuit on top.
Note: This recipe can be cut in half. Simply prepare only half of the biscuit mix to make 6 biscuits and reduce sausage patties and eggs accordingly. Leftover dry biscuit mix can be stored in an airtight container for up to 2 weeks.
Price Disclaimer
Campfire Burritos
These amazing tasty burritos are simple to make at home, wrap up and then cook over the campfire. You can also mix up leftover ingredients and use that as a filler.
Ingredients:
16 Eggs

1 lb. Sausage

1 Yellow Onion

3 Cloves Garlic, minced

6 Med. Potatoes, chopped

2 Cups Cheddar Cheese, shredded

4 Green Onions, chopped

3 T. Parsley, chopped

8 or 9 Tortilla Shells

Salt & Pepper to taste

Tin Foil for wrapping

Optional: Salsa and/or hot sauce
Chop potatoes and boil until soft.  Chop green onions and set aside.  Crack 16 eggs and cook over low heat until you have soft, scrambled eggs.  Salt and pepper to taste.  Caramelize some yellow onions and garlic in 2 T. olive oil until they let off their aroma and are fragrant.  Add sausage to onion mixture and cook all the way through.  In large bowl combine the sausage mixture, scrambled eggs, potatoes,  cheese, green onions, parsley, and Salt & Pepper.  Divide ingredients into 8 or 9 tortilla shells.  Roll and wrap in tin foil — they are now ready to throw on the fire!
Grilled Brussel Sprouts
These tasty and juicy brussel sprouts are perfect for the adults and go with a whole load of other grilled foods like hot dogs and hamburgers! They are super easy to make and taste great when done over the campfire. You can even drizzle these with honey and crushed garlic for something gourmet!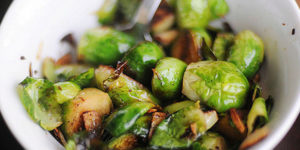 Ingredients:
1 pound of Brussels Sprouts

2 Tablespoons whole grain mustard

2 Tablespoons Olive oil

Salt & pepper, to taste

Equipment needed:

BBQ or Grill pan
Method:
Bring a large pot of water to a boil. Blanch the sprouts (i.e. cook them in the boiling water) for 3-4 minutes. Remove sprouts from the boiling water and rinse with cold water (or plunge into an ice bath).
Remove sprouts from cold water and pat dry. Trim the bottom stems of the sprouts, and remove the outer leaves. Mix together the mustard, olive oil, salt, and pepper. In a small bowl, toss the Brussels Sprouts in the mustard sauce. Allow to marinate for 30 minutes.
Once sprouts have marinated, prepare them for grilling. Skewer sprouts, placing 3-4 sprouts on each skewer. (Note: Since the sprouts aren't cooked all the way through yet, they are a bit tough to skewer. You can also place the sprouts directly on the grill without a skewer, if they are large enough to not slip through the grill grate.) You can do this at home and then wrap them and pop them in the cooler for cooking when you arrive at the campsite.
When the grill is nice and hot, place the skewered sprouts on the grill. Grill for 3-5 minutes on each side, or until the sprouts are nicely charred on all sides. When ready, remove the sprouts from the grill and toss with a bit more mustard sauce.
Vegetarian Tofu and Eggplant Bundles
This is a healthy recipe which is perfect for vegetarians and will give you loads of energy for the afternoon ahead. You can prepare most of the ingredients at home and then just put it all together when at the campsite. The following recipe serves four but you can double up if you need to feed extra mouths!
TOFU AND EGGPLANT
20 ounces firm tofu, cut into 16 chunks

12 ounces Asian eggplant, quartered lengthwise and cut into chunks

2 tablespoons minced ginger

2 tablespoons minced garlic

1/4 cup reduced-sodium soy sauce

5 tablespoons vegetable oil

2 green onions, chopped

SALAD AND SERVING

1 English cucumber, halved and cut into chunks

1 cup cilantro leaves

1 cup whole dill sprigs

1 red jalapeño chile, halved and sliced

2 tablespoons vegetable oil

1/2 teaspoon kosher salt

Cooked rice and soy sauce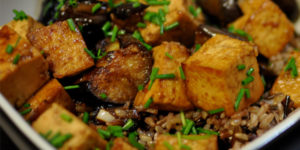 Preparation
Make tofu and eggplant: Seal ingredients in a resealable plastic bag, turn, and chill at least 1 hour.
Heat grill to high (450° to 550°; you can hold your hand 5 in. above cooking grate only 2 to 4 seconds to check the temp). Divide tofu mixture among 4 large squares of foil and seal securely. Grill bundles, turning once, until eggplant is tender when pierced, about 10 minutes.
Make salad: Mix all ingredients except rice and soy sauce. Unwrap bundles and top with salad. Serve with rice and soy sauce.
Price Disclaimer
A Day's Recipes – Tried and Tested
So, there you have it. Breakfast, lunch, dinner and a snack which are perfect recipes for camping. We have tried and tested all these recipes at the campsite and they work perfect. Kids will love eating out of foil packets and adults will love chewing brussel sprouts off a skewer! Try something interesting for your next camping trip! Don't forget that we want to make your camping trip as enjoyable and as easy as possible so check out our other posts on meals which can be prepared in advance and our list of meals to make for the week. Don't forget to come back and check out our next post – cocktails to make when at the campsite!