Camping Meals For a Week – A Menu Designed For You
We have designed a menu for a week which includes meals, beverages and snacks. From the day you leave till the day you arrive home we know food is important especially if you have kids, hungry kids! Camping makes everyone ravenous, the fresh air, the activities and the sleeping under the stars will give everyone a huge appetite so make sure you pack more than enough food, more than you think you need in fact. By packing healthy snacks and planning healthy dinners you can all feel good and prepared for the energy burning activities you might have planned when away. We have tried to help you and we like to make planning easier so have a look at our menu below which is for a whole week and includes all meals and snacks.
Monday
Breakfast – This will probably be at home before you leave so to make it easy for you choose cereal, toast and some berries.
Lunch – This will probably be on the road and on the go so pick sandwiches for this meal which you have previously prepared at home.
Dinner – You first meal at the campsite. Try something warm and tasty. Coconut chicken, potato salad, bell pepper slices and cranberry yoghurt cake.
Tuesday
Breakfast – Today is the day the excitement starts. Have yoghurt for breakfast mixed with berries and granola. Have banana muffins as an extra and wash away with some fresh juice.
Lunch – Have bagels with cream cheese or veggie pate topped with some deli meat or cucumber slices and have apples afterwards because these are a great energy booster.
Dinner – Tonight you can have your first campfire meal. Try some tin foil packet meals – try ground beef variations for a change and have banana boats with cream and chocolate before bed.
Wednesday
Breakfast – We love fried french toast with orange slices to give breakfast a fun twist. Coffee for the adults and juice for the kids.
Lunch – Taco Salad. This is easy to prepare and will fill everyone up and we can't forget the fact that it is super healthy and nutritious.
Dinner – Balsamic beans which are easy to prepare, a cherry tomato salad and chocolate in a bag for dessert.
Thursday
Breakfast – The week is coming to an end and you are all probably tired so fill yourself up on a cooked breakfast of bacon and egg with more fresh juice to wash it down.
Lunch – Lunch is important so try something with fish like Salmon chowder with crackers and pickles and carrot sticks.
Dinner – Camping isn't complete with having sloppy joes so save them for tonight and try some famous skillet bananas for something sweet.
Friday
Breakfast – Oatmeal with raisins and soya milk is healthy and will fill everyone up.
Lunch – Squash soup is tasty and different and have breadsticks rather than bread. Have apples as a dessert.
Dinner – We love mozza-chickpea pasta and you can top it with loads of different things depending on your individual tastes. Have carrot sticks to munch on in the evening and then before bed try canned peaches with cream.
Saturday
Breakfast – Toad in the hole is a famous camp breakfast and is loved by everyone. Tea, coffee and juice should be on the menu as usual.
Lunch – Try a citrus black bean salad which is easy to prep and serve. Have crackers and snow peas on the side as well.
Dinner – Salmon patties are filling and healthy. Try nugget potatoes for a boost of carbs and maple popcorn for afterwards.
Sunday
Breakfast – Today is the day you leave so for breakfast have pancakes with sausages to get everyone in a good mood to pack everything away.
Lunch – Try some homemade avocado-salmon spread on crackers and any of the weekends leftovers.
Dinner – When you arrive home to make it easy for you have something warm and cooked like omelettes with fresh vegetables and ham and some ice cream to make a good end to a good holiday.
Snacks and Beverages
For in between meals it is good to have some easy snacks on hand and even baked goods which you have prepared at home. Try some of these:
Trail Mix
Homemade Brownies
Camping Cookies
oranges
apples
grapes
Homemade Granola Bars
Peanut Butter Balls
potato chips
rice cakes
When it comes to drinks coffee and tea are great for the adults and hot chocolate for the little ones. Have enough water to drink and use squash to keep your little ones hydrated. Fresh juice is a good option too but make sure to keep it in the cooler especially if it is 100% juice. We love this hot chocolate with marshmallows and Robinsons squash which is a family favorite and actually tastes like real juice.
Experiment and Modify The Menu
The menu we have designed above is only a rough outline to give you inspiration. Take away what you don't like and add what you do. Maybe add a pasta lunch instead of salad if your kids are picky when it comes to healthy eating and add a rice curry dinner if you like something hot and spicy to get you in the camping mood. Don't be afraid to experiment with food especially when camping. Set a night for BBQ food where you can get someone else to do the cooking and sit back and enjoy the smell of barbequed chicken wings! Kids love to get messy so stick some veggies on a skewer with some meat and cook over the campfire. This saves on washing up utensils as well! If you are short of time when preparing meals at home then don't be afraid to go and get the ready-meal stuff from the deli counter. No-one will be able to tell the difference! Buy the brownies from the bakery before you leave and stop off at subway for sandwiches! If you do have the time to prep and store the food correctly then make everything from scratch because it is always healthier and you know exactly what is going into the food. It will also work out a lot more affordable than buying store-bought produce.
Don't Forget To Be Flexible
When camping you have to learn to be flexible and not worry so much about what you have planned. If you have leftovers from the day before then heat them up for lunch the next day with something different. If your bananas go mushy then grab a tin of canned fruit and have a fruit salad instead. It might also happen that some food goes off or some food may get eaten before you planned it to be so always take a little extra with you in case. If one day is raining and you can't cook on the campfire then try and save it for another day.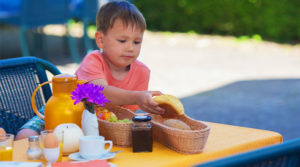 Always pack carefully and put foods into storage tubs and cooler boxes to make use of all the space you have.We really like this cooler box which comes in red and blue so you can have one for meat and another for other perishable items. It comes on wheels too which makes it easy to lug about with you and transport from your home to the campsite. Don't forget a cooler backpack which you can take with you when on hikes in the forest. We love this one because it is large and spacious, affordable and comfy to wear when on longer walks.
All in all camping should be fun and if you are the one worrying about food it can be quite stressful especially if you have a lot of people to feed. Do most of the prepping and chopping at home so it is easier for you at the campsite. Take paper plates and utensils if you don't have the facilities for washing up and always store you rubbish and then throw away in the correct rubbish bins. Always take a few extra cans and plan an extra meal and you will probably end up taking leftovers home but this is better than being cut short and having to shop at a pricey supermarket onsite.