Classic Camping Meals for Large Groups
If you are going camping with a big group of people then we have prepared the ultimate beginners guide on what to serve for larger groups of people. Taking fifty of your best friends on a camping trip is an awesome idea, it can be fun and you can all join in some amazing activities together which will leave you with lifelong priceless memories. To make a trip like this successful it requires a lot of organisation and an awful lot of planning but it can be done and it is well worth the effort. One idea is that each year someone organizes the trip, books the campsite, arranges activities and caters all the food.
There is a lot of advantage to this and it means that although one person gets all the hard work done, everyone else can just bring their camping gear and enjoy a unique holiday. By allowing one or two people to do the organisation it means that there is no confusion in campsites and where to pitch tents, it means that everyone gets equally fed and gets an equal chance at activities and it also means that you will be assured that everyone will enjoy themselves and no one person will turn up with a shortage of food. If you are thinking of having a similar outing with a lot of people then there are five things you need to take into account and do. The first is to assemble and invite the right people, you don't want any fights in the middle of the forest! The second is to calculate quantities and costs with a spreadsheet for better organization, the third is to pick the perfect location which is great for camping beginners and professionals as you will have a mix of them in your group. The fourth is to make sure you have appropriate shelter and seating areas organized and the last is to make sure you have supplied enough food for everyone and meals are organized.
All About the Food
Feeding a large group of people can be difficult and expensive but buying in bulk is the key to this. The amount of food and drink you will need to stock up on for three days is unbelievable but like we said, well worth the effort. Look into markets for bulk items which will make it cheaper as well as easier. When you buy in bulk you can average on $50 per person for three days and three nights and that would include three meals a day, breakfast, lunch and dinner and probably as much beer as they could drink. That works out about $16 per person per day which is a lot cheaper than many would think.
It is really important that when you plan your meals you first ask about any food allergies and secondly it is always a good thing if you come up with a vegetarian option as well. Cooking for large groups if either best as big one pot meals or BBQ meals. Don't be overwhelmed about the prepping because you will probably have loads of hands willing to help you chop and stir when it comes to actually prepping and cooking. For breakfasts and lunches it is good to provide a few options and let people help themselves. You can line up cereal, cold cuts, boiled eggs and toast for example so everyone can choose and the same goes for lunch, make some sandwiches and wraps, chuck together a salad and let people serve themselves. Everyone during the day might not want to eat or some might just prefer a large breakfast so this is better if you leave the menu open for these two meals. Dinner is the time where everyone can gather and chat about their day so this is a really important meal. Here are a few different meals to try when camping – these dishes serve around 6-8 people so double up and make two batches for larger groups.
Skillet Quiche
10-ounce package of frozen spinach, thawed
2 eggs
1/3 cup flour
2 cups cottage cheese
8-ounce package shredded Cheddar cheese or something like this
Small can or jar mushrooms, drained
2 tablespoons vegetable oil
1/2 cup pepperoni, finely chopped (optional)
Spray a 10-inch skillet, drain the spinach and squeeze it dry.  Whisk eggs with flour and stir in the cottage cheese and cheddar. Fold in your spinach and pepperoni while oil heats in the skillet. Spread your spinach mixture evenly in the skillet and then cover, reduce the heat, and cook until the bottom is crusty. Make sure the quiche is "set" in the middle before serving.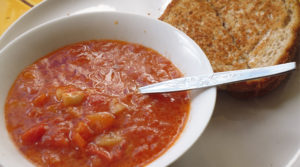 Pink Bark Stew
1/2 pound bacon or salt pork, cut up
2 large onions, finely diced
9 cups water
16-ounce box of dry hashed brown potatoes
28- to 32-ounce can of diced tomatoes
1 cup ketchup
Salt, pepper to taste
Tabasco sauce
About 3 pounds of skinless, boneless fish cut in bite size
Fry the bacon in a large cast iron skillet and stir your onions into the hot fat until they're translucent. Add water, bring everything to a boil and stir in the potatoes, tomatoes and ketchup. Cover the pot and keep it over medium to low heat for 15 minutes to soften the potatoes. Increase the heat and stir in your fish until it turns white and firm. Season to taste and pass the Tabasco.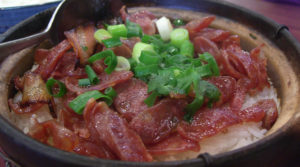 Pork Chop Hot Pot
4 lean, meaty pork chops
Salt, pepper
2 tablespoons vegetable oil
4 medium potatoes, scrubbed and thinly sliced
Medium onion, sliced thin
Green bell pepper, seeded and sliced
15-ounce can cream style corn
Trim any excess from the chops and sprinkle them with salt and pepper. In a large skillet, heat the oil, brown the chops on both sides and arrange your potatoes, onion and pepper on top. Add a half-cup of water, cover and cook over low to medium heat until the vegetables are tender. Put the finished chops and vegetables on serving plates and stir the corn into the pan juices, scraping up browned bits. Spoon this corn gravy over the meat and potatoes.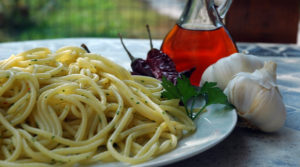 King Neptune's Pasta
12- to 16-ounce package tail-off, de-veined shrimp
12- to 16-ounce package of bay scallops
16-ounce package linguine
1 stick butter, cut up
6-ounce jar of grated Parmesan cheese
8-ounce carton of whipping cream
1 cup milk
Thaw and drain all the seafood. If your shrimp and scallops are large, cut them into bite size pieces. Cook and drain the linguini and stir all your ingredients into the hot pasta. Stir over low heat until a creamy sauce forms and the seafood is firm.
Don't Forget to Buy Bulk
As we mentioned before the key to getting it all right and as affordable as possible it to buy in bulk. Even things like snacks can be bought in bulk and it will work out a lot more affordable than buying separate. For example buy this variety pack of nuts which works great when you need a quick fix and there are different types to choose from so no-one will go without a snack. Buy rice bulk as well because this is something easy to cook and goes well with everything and you can eat it hot or cold. Make a chili or just throw in some grilled chicken and you are ready to eat. The same goes for pasta and the great thing is, you can improvise on meals if you haven't planned quite right. The main key is to enjoy yourself. Buy a few bottles of wine, a lot of beer and of course, water and let everyone muck in together when it comes to making the meals. It really is worth the effort!