Amazing House Tents For Family Camping Trips
Taking your family camping can be fun and enjoyable. Make the planning and organization stress free by letting us do the hard work of finding a tent which is right for you. House tents are great if you are a family with children and you need space for luggage, cooler boxes, shoes, clothes and other essentials which you might need when catering in the forest with both younger and older children. Making your choice might not be so easy because there are so many tents to choose from. A lot of people like all the fussy features which some tents come with like awnings, inside doors and toilet areas and others prefer a simple large tent which is big enough to sleep six people. We have picked what we think is the best of both worlds. Read on below to see our picks and why we think they are the best family house tents around.
Eureka Copper Canyon 6 Tent – 6 Person
This tent is great if you don't mind the bigger size. If you are going car camping and you have the room to store a bulky, boxy tent then you should go for this. The extra space provided by this large family tent will help you have more sleeping space and it will make the trip more comfortable if you are staying a week rather than just a weekend. Eureka make camping as comfy as possible and with this tent you will want to be going camping again and again. It has a cube shape and the center height reaches seven feet and is probably one of the roomiest family tents about. It is isn't built for the top of a mountain in a snowstorm but it does withhold strong wind and rainstorms which is important, durable to say the least.
This tent will be a family favorite and you will be pitching it up in many years time as well. Long lasting and high quality is what you get when purchasing the copper canyon. It has a 10 x 10 floor space, a large D style door with windows which offer both ventilation and visibility. Eureka build tents for little ones to large ones and this ticks off our checklist of all the things we need and it easy to set up! We give this stylish tent a thumbs up! Plus who doesn't enjoy stargazing when camping?
Coleman 8-Person Instant Tent (14'x10′)
We also can't help but smile at the Coleman tent. It is so spacious and well worth the investment if you are a large family. You can buy it in three cool colors, black, brown or blue and it has a modern yet stunning design. It is designed for quick assembly so you can erect it in about five minutes which is a great plus because the poles are attached to the tent so no more wondering on what tubes go where. It has also been designed using the unique exclusive weather Tec system which basically means it has really thick waterproof walls with a welded floor ensuring you and your family will stay dry in even the heaviest of downpour. It has two doors and seven windows with additional removable dividers between rooms so every family member can have their own privacy. It has a center height of six feet which is substantial enough for someone to stand up in without having to crouch over in two. Coleman will also give you a one year warranty with this tent which is something we can't help but love!
The designers have created this tent with you in mind and have used only the best quality materials when manufacturing it. No more elbowing each other when asleep because this tent gives everyone the room they need to get a good nights kip and we love the Coleman tents!
Tahoe Gear Carson 3-Season 14 Person Large Family Cabin Tent
When it comes to family camping we say the bigger the better. Why not have a tent which is like a house to make your camping trip even more memorable? We love this huge fourteen person tent and although you probably won't be squeezing fourteen people inside it is perfect for a family of six or even eight.
If you are looking for something practical as well as comfy then we have just the tent for you. It is great for use during the day and at night. The generous seven foot height allows for people to move with ease inside the tent and the durable material body is great if you want to retreat into the cool after a hot day or retreat into the warm after a cold day. It comes with an additional fly canopy which can be pulled out and extended over the door for extra space and includes guy ropes so you can secure it in harsher weather conditions. We love this extra space because it is great for storing bags and shoes and is even better to use as a cooking area. The three adjoining rooms can be separated off for privacy or opened to create a larger living space. There is open mesh windows and doors in each room so you can keep the light in but the bugs out which is another plus that we love and it comes fitted with solar reflectors to keep it cool in the hot sun. We think this family tent is great value for money and is worth the buy. Spacious, affordable, durable and long lasting with an easy to pitch design you simply can't ask for more.
Ozark Trail Base Camp 14-Person Cabin Tent
If you want something even bigger then go for this blue and yellow tent which is designed like a cross. It can have up to four separate rooms which can be divided off easily with tie backs. It has an outstanding twelve windows which provide ventilation throughout and it can fit up to five air mattresses inside! With two people at hand it can be set up with ease under twenty minutes and the main area has a mesh roof for those stargazing evenings to enjoy with your other half. This is a great tent if you are planning to go camping in a wet and damp area because there is enough space inside the tent to prepare food and play card games with your children to pass the time! The main area works well as a storage area and is somewhere where you can take off your muddy shoes as well.
Many campers say this is the best family tent around and even though an older model still beats the newer ones. If you have both older and younger children then this tent would work great for you as it offers the right amount of private space that every individual might need.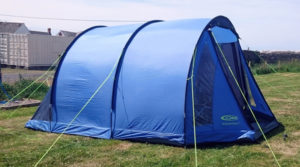 Choosing the Best House Tents for Camping
All these four tents are perfect family tents. They all have great customer reviews and will give you and your family the room you need to sleep well, dress and eat without sitting on top of one another. Even though these are large tents we have picked them because they are in general easy to pitch and easy to put away. All of them are weatherproof and have been tested against high wind and rain. Choose one with an awning area if you think you will use it or if not choose one with a main middle area like the Ozark where you can snug together and watch the stars at night. All of the above tents are good quality, long lasting tents which are great for the novice campers right down to the pro's.
Why not try a family camping trip today and enjoy the holiday of a lifetime while getting back in touch with Mother Nature? Pack some clothes, wellies and enough food and you will find you won't even need your phone!