The Top Small Tents For Sale This Season
When choosing to purchase a small tent there are many pros and cons that come with it. First of all they are great for beginners and solo backpackers or couples. Smaller tents are easier to put up and if you choose a pop up camping tent then you can literally do it in a couple of minutes. They retain heat better and will warm up quickly, we love to be snug and cozy when camping. Although the downfall to this is you really can't get more than two people in a small tent so if you are a family of three or four then you should think about a larger tent. If you have large backpacks with you then it might be a bit of a squeeze with two people and two backpacks. Small tents are great because they fit in smaller areas and you can easily find a place to pitch them anywhere you go. Most smaller sized tents are compact in size, easy to carry and fit really well into small backpacks. You also really need to consider the weather because if you are staying in a climate where it rains all the time then you will want a taller tent so you can sit up inside while waiting out the rain. Smaller tents come in all designs, shapes and sizes so have a look at the different ones we have picked out which are perfect for a two day backpacking trip all the way to a three week hiking camping trip!
Alps Mountaineering Lynx 1 Tent 2015
Although this tent is from last year we can't fault this amazing mountaineering tent. This is designed with two poles and is freestanding. It is created for easy assembly with pole clips stays taut when pitched. We like this brown and orange style as well which makes a change from blue and green tents. Although this is classed as a one man tent there is extra room and a small vestibule for your luggage. This model comes with extra weather protection and weatherproof fly buckles. Half mesh walls help for the ventilation of the tent and it comes with ropes and stakes as well. When packed it comes in a compact carry bag and weight a little over three pounds.
We love this tent because it is great in all weather conditions and the company offer a lifetime warranty so even though it is a more expensive tent in the higher price range, it is really worth it in the long run. This tent is roomy and will keep you warm in the chilly weather. If you are thinking about going on a lot of backpacking trips in various climates then we really think this is the tent for you and customers can't be more than happy with the Lynx 1!
1 Person 4 Season Tent Double Skin Ultralight Camping Tent
Coming down in the price range this tent is more affordable and is great for beginners. This tent again is designed to hold out in all weather conditions and is made to keep you snug as a bug. The tent itself is great because it allows you to sit up in the middle with enough room so you don't get a twisted neck. This particular model comes in green, orange and grey so you can choose whichever color suits your style. This tent is ultralight, portable, easy to carry, easy to pitch and easy to put away and we can't fault the fact that it is super waterproof and super windproof. It has a neat little space out front for your backpack and muddy shoes which saves up on some space in the tent and for a one person tent it is really roomy.
This tent is durable, sturdy and long-lasting and there are some really happy customers out there who rated this a five star tent. This tent is worth a go if you are a beginner to the backpacking and camping world.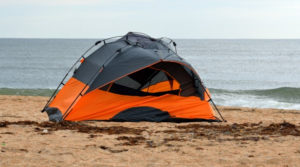 Hilleberg Nammatj GT 3 Person Tent
Hilleberg is known to be the top of the top when it comes to camping and we love their three person tent. Don't be fooled though because in reality this tent is roomy enough for two people and a dog – not three people. This is small and compact but still roomy in size and we love the fact that it comes in three colors and is a different style than the general run of the mill dome tents. Hilleberg have created their tents with a load of features such as an outer tent fabric and 10 mm poles which make for an exceptionally stable tent, spacious interiors with full sitting height in the inner tent, one vertical inner tent entrance, and, thanks to the tunnel design itself, near-vertical side walls, a single entrance and vestibule afford easy access and plenty of storage space, but keep the weight low, a full no see mesh door (which can be zipped off completely) and a multi-slider zipper door that can be opened from the top, side, or bottom. We are in love with the top quality of this tent and think the investment is worth it. This tent will last you a lot of camping trips because it is so durable and sturdy and made with only high-quality top materials.
Customers have stated that this tent is perfect for all weather conditions including heavy rain, heavy wind and even snow so you know you won't get blown away when the weather gets bad. Even though a little more expensive we love this model – especially if you are a camping fanatic and will be using it like your second home!
Mountain Hardwear Ghost Sky 2 Person Tent (Grey Ice) by Mountain Hardwear
Mountain Hardwear have designed this grey ice classic but stylish tent which is perfect for a couple on a romantic camping getaway! We are in love with the icy design and the roomy space available inside the tent. It comes with dual slider mesh doors, mesh pockets for interior storage, a guaranteed watertight construction and a welded zipper flap. Again for the higher price this is worth the investment because when you purchase this tent you are purchasing a tent which will last you a lifetime in all types of weather conditions. We can't fault Mountain Hardwear because they really do design durable, sturdy and long lasting tents. This is yet another tent which is super easy to pitch and super easy to put away so you won't be wasting any time scratching your head when putting it up.
Sierra Designs Lightning 2 FL Tent
The last on our list is this snazzy sierra tent which is designed in a triangular shape which will make you really unique on the campsite. We love the bright yellow it comes in and all the amazing features which come with it. It is a freestanding tent with integrated awning poles, it delivers UV protection and is designed to allow you to keep the windows and doors open during rainfall. It provides a full shelter at an affordable price and is minimum weight which makes it easy to carry around with you.
The doors close with high quality zippers and the double wall construction allows for full protection throughout all four seasons of the year. This tent is so convenient to put up and is great for even the most novice of beginners.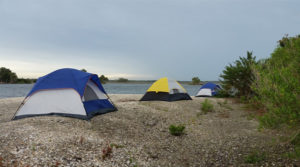 Are You Ready To Camp?
We hope we have advised you on the best one and two person tents. Depending on your budget there is something for everyone but always consider your weather conditions and what you think you will need more when it comes to a tent. Ask your friends and family on their favorite tent and check out companies warranty policies as well. We love these tents and we are sure you will too!