Ideal Tent Lighting Ideas For When You Go Camping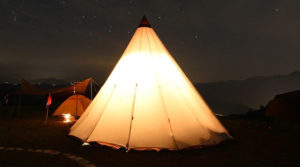 When you go on a camping trip lighting is something you simply can't do without. You need light to cook, clean, get dressed and set up camp with. Not only is it something you can't do without but it creates a warm, inviting atmosphere inside and outside your tent. Lighting comes in many sizes, shapes and forms as well different varieties for example battery powered or solar powered. Choosing what is right for you depends on the space you have, the size of your tent, what you need it for and the weather conditions you will be staying in. You also need to make sure you purchase good quality lighting that won't leave you in the dark. Here is what we think is important when choosing lighting for your camping trip.
What You Need To Look For When Purchasing Lighting For Your Tent
Choose battery operated. These are the safest and the most reliable. Under bad weather conditions they are so much more practical. You can turn them on and off whenever you see fit and they are a lot safer than the traditional kerosene lamps. Choose one with a longer battery life or even one that has a recharge crank so if you get caught short with no batteries and a dead light you can still use it in emergencies until you return home. If you are going on a backpacking trip and you have to lug it around with you all day choose something small and light because an extra pound or two can make a huge difference. It needs to be compact in size but it also needs to have a huge effect. Any lantern, flashlight or headlight that you have needs to be bright. To be able to keep you organised and of course out of danger in the more extreme conditions it needs to emit a lot of light. It is even a good idea to invest a light that has different dim settings on it so you can sleep with a night light on for example.
Another good thing to look for is a hands free light, when pitching your tent or when cooking you will need both hands so having one that is attached to you makes camping a whole lot easier. If you want a well-lit campsite then invest in a freestanding one as well. You can even buy lights today that have emergency signals on them incase you get lost in the dark or come across an emergency situation. More than anything you need a weatherproof, waterproof light that won't die on you in the damp or the cold. As a rule always make sure your light has this feature and as a second rule look for LED lighting because they are brighter and longer lasting than any other lights and LED lighting doesn't attract bugs because they they don't emit UV rays like the others do.
CampGuard LED Camping Lantern with Auto Motion and Auto Motion with Alarm sensing detection and Rugged rubber coated protection
As far as lanterns go we really love this camping lantern. This is an ultra-bright LED lantern which emits 400 lumens and is rubber coated making it durable and weatherproof. It is equipped with motion detection as well so it will automatically light up if you want it to when you enter or exit the tent for example. It also has an additional motion detector sensor with an alarm that will alert you to any unwanted guests by your tent which also works during the daytime when the light isn't turned on which helps ward off wild animals! With a warranty of three years this makes for a really good investment and one which we love. CampGuard have really good reviews from hundreds of customers and their lantern is high quality and safe to use.
Secur Waterproof Hand crank or built in Solar powered 3 LED Flashlight, High power 3 functions LED, Dynamo powered no batteries needed, waterproof up to 45 feet
We are really in love with this compact sized solar powered flashlight which is waterproof so you know it will work in harsh weather conditions. It comes with a built in hand crank for emergencies and has three settings for LED lighting. This is great value for money and offers some real light – it offers 120 minutes of light after one hour of direct sunlight charging and sixty minutes of light after one minute of cranking. It comes with a strong five year warranty and we can't help but notice the stylish design which pulls it apart from other flashlights.
Cymas LED Headlamp 5000 Lumens, Bright Headlight Flashlight Waterproof USB Rechargeable Headlamp for Hunting Camping Running Fishing Night Working
If you want something really bright and a light that is handfree then go for this more professional option which is really comfy to wear. It frees up your hands, has a really good fit which can be adjusted to different angles and sizes and with 5000 lumens this LED headlight will give you the light you need to do any task while camping. There are four different light modes which you can choose from and it can be charged through a USB port as well as batteries. Cymas offer an 18 month guarantee with this product and customers are more than satisfied with its amazing features.
Suaoki Led Camping Lantern Lights Rechargeable Battery (Powered By Solar Panel and USB Charging) Collapsible Mini Brightest Flashlight for Outdoor Hiking Camping Tent Garden Patio(Emergency Charger for Phone, Water-Resistant)
We also love nifty gadgets that feature a round of uses which are helpful when camping and we got all excited when Suaki created a snazzy lantern that not only is collapsible and compact but one which has a whole range of buttons, features and uses. This cool lantern can be charged through sunlight or through USB giving you the choice to choose whichever is more convenient for you. It is foldable and durable and it smaller than the iPhone 6 meaning you can fit it nicely into any sized backpack. It has three lighting modes and you can even purchase it in green or red! Not only is it water resistant but it will charge you phone if you have an emergency. We are in love with this lantern and think it is great value for money!
Big Agnes – MtnGLO Tent Light Accessory Kit
Maybe not so practical and a bit of a fuss to put up but these string lights will make your tent feel as if you are in Santa's Grotto and this is a lighting option which is perfect if you have kids. They are a fun way to light up your tent for the whole family and let's face it – the toddlers can't exactly lose them! These lights come packed in an easy portable carry bag with 100 inches of LED lights. The kit includes clips so you can install them easily and the work on three AAA batteries which will give you 24 hours of light. You also have the option to charge with a USB port. These lights will really brighten up your tent, give off a cozy atmosphere and will probably make your tent the coolest in the campsite!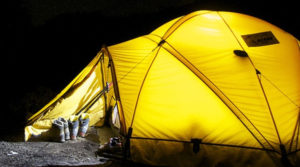 Just Buy Them All!
If you have the space then don't choose but buy them all! You can never have enough lights when you are camping and if you go with kids you will probably end up with less than when you started. Have a few inexpensive flashlights at hand to use and one headlight each which can be used hands-free. Make sure you have a lantern for your tent and one for the outside as well to make cooking and dressing tasks easier. Choose the lights and lanterns which can be folded and packed away easily to make for better storage and enjoy your trip rather than fumbling around in the dark!