All The Top High Tech Camping Gear of 2016
If you are geek who loves gadgets but you are a camping fanatic too then why not mix the two together? We have some solutions of some neat gadgets and some cool stuff to take camping which once used, you won't be able to do without. We aren't talking about a pop up camping tent (although we love those too) and we aren't talking about tent lighting ideas for when camping (although that is something you can't do without) but we are talking about neat camping gear that will filter your water, recharge your batteries and help you compile and store data while away.
Sawyer Products PointOne Squeeze Water Filter System
We love this lightweight and portable water bottle filter for camping and backpacking. It removes greater than 99.99999% of all bacteria and 99.9999% of all protozoa. It comes with free BPA collapsible pouches and is backed up by a lifetime warranty. This is a really nifty gadget to have on hand when camping, especially if you run out of water. Fill it up from a stream or from the rain and away you go. For what you get it is also great value for money and we can't find a better one on the market yet.
X-1 (Powered by H2O Audio) IE2-MBK-X Surge Contact Waterproof Sport Headset (Black/Blue)
Take camping to the next level and enjoy a walk in the woods with music in your ears with these stylish, waterproof headphones! These are also sweat proof and give off amazing sounds. They are waterproof up to 12 feet in water and are super easy to maintain and clean, all you do is rinse with water. This is yet another gadget which is super great for super money and has amazing customer reviews. Try them today and you won't be sorry. With a one year warranty and compatible with all iPhone and android devices you will be guaranteed satisfaction when purchasing these.
Nemo Helio Pressure Shower
If you need a quick fix for a shower or you are in need to rinse off your muddy camping gear in a rush then this is just the thing you need. It comes with a hose, a pump and a carry case and holds eleven litres of water which is more than sufficient for a shower. If you get stuck in the forest while camping then this could be the solution for you. It is lightweight and easy to carry around and actually does a perfect job. The easy to use pump provides constant pressure and the safety strap will stop the tank from accidently opening up when in use. Leave water in the sunlight to warm up and you are good to go. Have a hot shower out in the open and really get in touch with Mother Nature with this nifty gadget. This isn't expensive for what you are getting and customers are raving about it!
MiniPresso GR Espresso Maker
If you are a coffee lover but you can't stand the thought of instant coffee when camping then check out this amazingly minute and compact espresso maker. This coffee machine is capable of making top quality coffee at the drop of a hat and will fit neat and snug in your backpack. It is hand operated so requires so batteries or electric which is just the thing you need when on a camping trip because you can always rely on it. It comes in a sleek and stylish black design which makes this gadget even more desirable. Easy to use and really tasty coffee – get your morning caffeine boost with this nifty gadget.
Petzl Headlamp – NAO 575 Lumens
If you are all for the 'smart' technology then you will love this smart headlamp. This is great for camping but only comes with a rechargeable battery and will give you four to five hours of light after recharging. The cool thing about this lamp is that is adjusts to your surroundings and adapts its light brightness as needed. If you need some extra light but can't recharge it then there is a slot for three AAA batteries. It has a lock function and is super comfy to wear. There is a belt kit as well in the box so you can have the battery on your belt and the lamp on your head. There are different light modes and functions which really make this a sturdy and smart headlamp. We love Petzl and think they did a really neat job with this high tech headlamp!
BioLite Wood Burning Campstove
When camping the main event at the campsite is the campfire. This portable wood burning stove does a number of things aside from cook your food and keep you warm. It powers most USB chargeable devices and when there is a strong fire going it boils one litre of water for literally four minutes! It is lightweight and weighs 2lbs which means you can carry it around with you with ease. There is a built in internal battery which will jump start the fire and heat as well. This is tiny but does a great job and you can even buy a grill attachment with it so you can cook your eggs and bacon on it in the morning! BioLite have designed this so that it reduces your carbon footprint and gives you a campfire that is clean and safe to use.
Garmin Quatix 3 GPS Watch
As we come into the more expensive range of high tech camping gear we have this amazing smart GPS watch by Garmin. We really, really love this and we recommend this product to all serious campers and backpackers. It has fishing features which and a catch log to help you keep track of the fish you have caught and the remaining time you have to fish. All up to date tide data will be downloaded through your smartphone so you can be assured a walk on the beach won't end up with you being stranded somewhere. There are several navigation features like 3-axis compass, altimeter and barometer, TracBack and Sight 'N Go and it has Multisport functions for running, hiking and swimming. It also has an additional activity tracking feature counts steps taken, calories burned and stairs climbed.
It is made from stainless steel which makes it really durable and long lasting and is comfortable to wear. It has a high resolution display and can be connected to various weather and feature apps from your smartphone. The watch comes with a blue silicon band and a black band which makes it even more stylish to wear. Customers say that this watch is worth the investment and up to now hasn't let anyone down. Garmin customer service are also really helpful so you can be assured that if you have a problem with your smart watch, they will help you right away.
7 Gadgets You Can't Do Without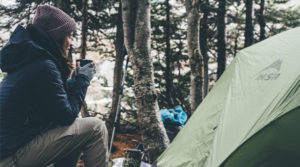 We listed above seven gadgets that we can't do without when camping from showering to making coffee. Make camping fun and futuristic with all the neat technology and nifty gear that is on the market today. Make your neighbouring campers jealous and show off the high tech gear that will take your camping experience to new heights. Invest a little cash and do everything the 'smart' way! Bring your daily life of technology into the world of camping and use these compact gadgets to make your trip enjoyable, stress free and easy. Who wouldn't love a high quality cup of coffee next to the tent while checking out the news reports on your wrist?