Having a camping table and chairs make's life easier and more relaxing when enjoying the outdoors. They usually need to be compact, lightweight and portable (for obvious reasons) and usually don't come together, so for this post let's just look at camping tables.
Whether you're living in the RV World or car camping you're going to need a camping table. Here I will review three camping tables available from Amazon that will be sure to meet your needs.  Most campsites have a picnic bench at your campsite, but a lot of times all they have is a cooking grate for grilling, and that's it. It's important to bring a table that you'll be able to cook and eat on as well as place things on while you enjoy the outdoors.
The Coleman Pack Away 4-in-1 Table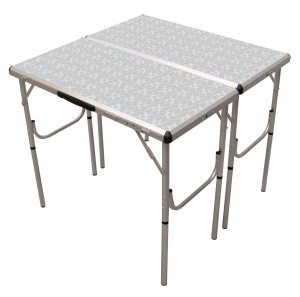 A light and easy to carry table that is collapsible so you can carry it like a suitcase. It's a great versatile camping picnic table that comes with two separate tables that can easily be attached to make one bigger table. You can also easily adjust the height so the kids can have their own table to eat at.
Two tables can be used individually or together in multiple configurations

Each table's surface measures 31.5 by 15.5 inches (W x D)

Folds down to 24 by three by 16 inches (W x H X D)

Height adjustable at 14.5, 27.5, 31.5 inches

Aluminum frame with MDF prep surface

12.3-pound weight

300-pound capacity

Not recommended for use with stoves or extremely hot items
Camp Chef Sherpa Table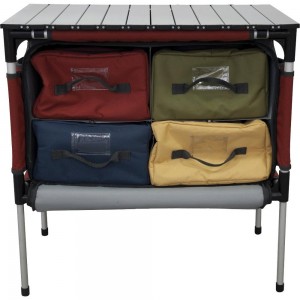 This table is cool because it has 4 compartments to store things in. You can always have your necessities for cooking or eating nearby without having to remember where you put them. It's also nice because it's the light, at only 4.1 pounds.  Some people would like to see extendable legs, but for most people it will work just fine (in a camping situation). And if you remove the bottom two bags you will have enough room to store a stove (they recommend the Mtn Series stove).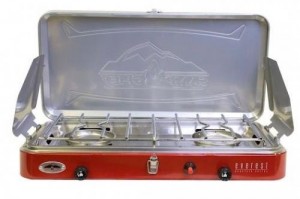 Versatile aluminum roll-top table, 600 denier fabric, 4 zippered compartment, Side pouch for transportation of table top

Padded carry handles for easy handling, telescoping aluminum legs, Unzip the lower divider to accommodate a Mtn Series stove, Blue organizer is lined for use as cooler or sink

* 15 3/4″ x 27″ x 18 1/4″ (with legs collapsed) * Table height with legs extended – 28″ * Table top dimensions: 27″ x 17″ * Individual bag dimensions: 12″ x 11′ x 6 1/2″

Remove the lower two bags and unzip the divider and you'll have plenty of room to stow a Mtn. Series stove. The aluminum top stores easily in it's own compartment when it's time to go.

Extendable legs are perfect for raising the table to a perfect cooking height. Handles on the side make for easy transportation.

4.1 pounds
ALPS Mountaineering Eclipse Table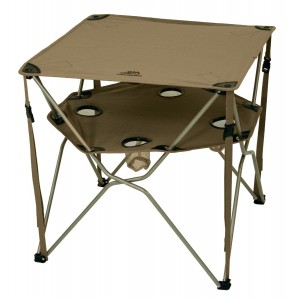 It's a camping folding table that would work great for any car camper enthusiast. This is more of a "lounging around and playing cards" than a "cooking" table because of its soft cover, which is it's only con.
Here is a small camping table that is easily portable and collapses into it's own bag. The top of it has a checkers board on it with the checkers located in the side bag. Make sure to watch the video on this table to see it in action.
Claimed Weight: 6 lb

Dimensions: 27 in, 27 in, in

Material: [body] 100% 600D polyester, [frame] 100% aluminum

Carry Sack: yes

Height: 26 in
Pop up campers are nice to have in this case because they give you the extra room to store stuff in (ie, camping shower, camping toilet) so space isn't as much of an issue, although these tables are collapsible and will fit in a trunk without a problem.
When it comes down to it there really isn't a "best" camping table out there.  It's more about what works "best" for you and your situation. If you like car camping then you might want something like the Sherpa or Eclipse table (although the 4-in-1 would work fine too). If you live in the RV world and have extra room then the 4-in-1 would work great.