You are probably interested in the different kinds of pop up campers that are on the market right now, or which are the best or most affordable.  You've come to the right place, I'm here to help! I'll help you decide which is best for you, from coleman pop up campers to fleetwood pop up campers or even used pop up campers I'll do my best to help guide you through to make the best decision possible.
You could be living in the RV world, but pop up campers are much more affordable, easier to maintain, and take up less space. Why? They are more affordable because they are smaller and more compact, you can find fixer-uppers for only $300-400 dollars on the low end (although the less they are the older they probably are, maybe the mid 90's).  I was just looking at a seller on Ebay from PA that has some amazingly low prices (from 2003, and 400 pop up campers in stock apparently). Pop up truck campers can start around 1,000 and go up from there.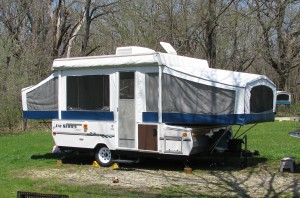 Let's look at a very popular type of pop up campers, coleman fleetwood pop up campers.
First off it's important to know that from my research coleman isn't producing the fleetwood pop up campers anymore.  But just because they aren't making them anymore doesn't mean you shouldn't get on, in fact it might mean you'll get a better deal all around. Check your local classifieds for pop up campers for sale, you never know… you might find a really great deal!
Family size is important to think about when deciding on a pop up camper vs pop up truck campers. If it's more than you and your partner then you probably want to get a pop camper for its extra room. My cousin and her husband have three young girls (7 and younger) and they fit in a pop up just fine because it can fit 5.
If you don't mind a little setup when you arrive at your destination then a fleetwood pop up camper might be right for you, but if you want a little less set up work pop up truck campers might be a better situation for you. I personally like the truck pop up camper because it's so easy (hardly any setup), but kids aren't an issue for me, so space isn't as necessary.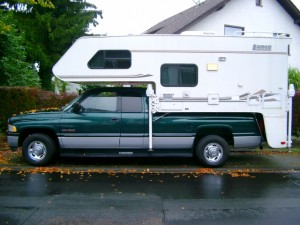 An extra thing you might want to consider getting is a camping toilet or a camping shower. Most state parks have these amenities but if you're going somewhere that doesn't have these things you'll probably be happy you brought them along. There are simple portable shelters that can act as a room for either activity that are only around $20. The camping toilet can be around $50 or you can dig a hole in the ground for free (depending on where you're staying of course). Check out these Camping Showers and Shelters
on Amazon.com
Remember to check your local craigslist for used Pop up campers, this is a great way to save money from the sticker price and also maybe even taxes (check local tax regs to make sure). Remember to thoroughly check over the camper before you buy it, as you need to make sure that the condition is as good as the seller claims it to be.
Here is a video that you might want to watch on how to set up your coleman pop up camper (sorry it's a little old):